Meet Dr. Gary Barone
The first thing you might notice about Dr. Barone is how genuine and welcoming he is. He really cares about his practice members and wants to make a personal connection with each one. He doesn't see you as someone who is here for a treatment or two, he's into building relationships. Dr. Barone wants to help you achieve great health and wellness for a lifetime. The second thing you will probably notice about Dr. Barone is his sense of humor. He loves to laugh and joke which really comes in handy with his younger practice members. That and a new toy at the end of their visit make everything right.
Choosing His Direction
Dr. Barone was unsure, at first, as to what direction his career would take. That is until his mother became seriously ill. His parents emigrated to Canada from Sardinia, Italy. They moved into a culture of treating illness with medications. His mother developed bad headaches that medicine wasn't helping. Even worse, the drugs made her sicker, causing stomach issues as well. Her condition continued to deteriorate; including two hospital stays. One day, Dr. Barone noticed that the box which had contained all the medications his mother took was empty. Worried, he asked what happened to her life-sustaining pills? She said she threw them out. When he asked why she would do that, she said she didn't need them. After getting treatment from a chiropractor, her headaches were gone. Dr. Barone found the career he wanted to make his life's work.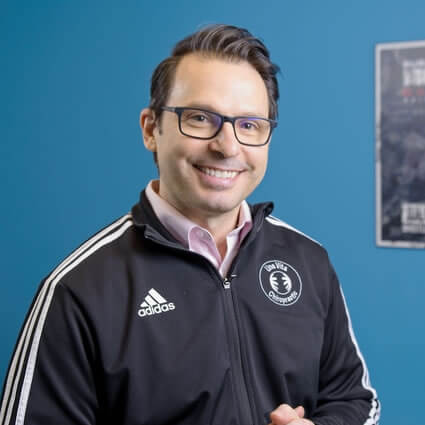 An Education in Chiropractic and More
Dr. Barone received his Doctor of Chiropractic in 2000 from the University of Western States. Having grown up in New Westminster, he knew he wanted to open his practice in Port Moody. A lover of the outdoors, with so much to do in the area, it just felt right. After graduation, he signed the lease for the practice even before he received his license. His doors opened in Newport Village in 2000. The location may not have changed since, but his practice has. Port Moody residents tend to be active in all types of sports. Originally, Dr. Barone's practice was made up of athletes and sports enthusiasts. As his practice members started to marry and have families, his practice changed with them. Now, Una Vita Chiropractic sees practice members of all ages, from newborns to grandparents. Working with young families that he has watched come together and grow is rewarding. Working together with them to stay healthy is even better. CHIROPRACTIC CARE
Dr. Barone believes continued learning benefits his practice members. He has earned the following certifications:
ART – Active Release Techniques
ICSC – International Certificate in Sports Chiropractic
Certified Strength and Conditioning Specialist
ICPA Certified in Prenatal and Pediatric Care
*** Only chiropractor in Western Canada with Dual Certification in sports and pediatrics
Dr. Barone admits he came out of Chiropractic school believing he knew all he needed to know about his field. Over the years, he has discovered nothing could be farther from the truth. There are always new techniques to learn, advances being made and better solutions discovered to help practice members. This perspective became very real to him when he and his wife were trying, unsuccessfully, to become pregnant. Dr. Barone tells the story of his alarm servicing tech repeatedly advising him to have his wife adjusted. The technician told him his wife got pregnant after adjustment.* Dr. Barone continued to ignore his advice. After 4 years of trying, and medical opinions saying she could not have children, they decided to try it. His wife got adjusted for six weeks and became pregnant.* They are now parents of two beautiful children. Dr. Barone's mindset changed completely. His practice went from sports-oriented to vitalistic and holistic wellness. Realizing he could make a difference in people's lives, led him to pursue additional training to treat the whole person.
***These results are not typical. Chiropractic care is not a treatment for these conditions.
When Dr. Barone is not with practice members, you can find him playing soccer with his son or hanging out in Whistler, his second home. He loves to go skiing, biking and just enjoys being outdoors. When inside, you can find him playing his guitar.
Book an Appointment Today
Dr. Barone would love to help you get back to living life to its fullest. Are you ready? Contact us today, (604) 461-2725 ; we're here for you.

Dr. Gary Barone | (604) 461-2725