Pediatric Chiropractic
in Port Moody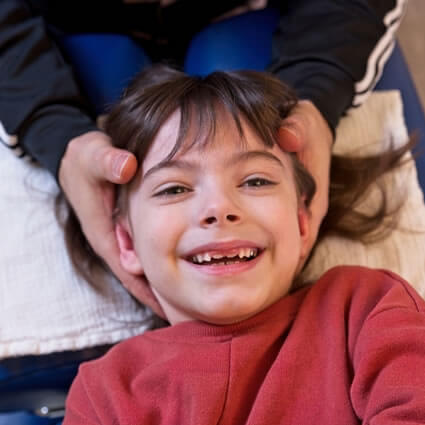 What is Pediatric Chiropractic?
Chiropractic is natural healthcare for children. The main benefit of pediatric chiropractic is to protect the function of the child's spine and nervous system. The best time to check the spine is when it is young, developing and healthy. Our goal is to ensure your child functions at their optimal level.
Problems can appear in the growth process at any time. They can be a result of trauma or injury, disease, nutritional deficiencies or hereditary. This is especially true while undergoing structural changes during the crawling and walking stage. Chiropractic care allows their bodies to do what they're meant to – grow, thrive and meet their milestones.
Children running and playing games often put stress on their bodies. Constant falls can seem minor now, but add up to major problems in the future. Pediatric chiropractic adjusts the alignment of their spine and skeletal system to relieve pressure and stress on their nervous system. The right care now can stop the development of many of the problems we deal with all our lives.
Children love chiropractic! Once they realize it doesn't hurt, they look forward to the appointments. Naturally energetic, children respond quickly and well to their adjustments. Regular chiropractic visits help give their bodies the best natural chance to prevent health problems, like back pain and headaches.
What to Expect
Pediatric chiropractic is completely effective for babies and children. We never 'crack' babies and the adjustment doesn't hurt them. Dr. Barone uses SOT- Sacral Occipital Technique, an extremely gentle form of spinal alignment.
With older children, we use the same manual manipulation techniques but with a much lighter touch. There is absolutely no man-handling of your child; we don't force any treatment on them. Every effort is made to put your child at ease and develop their trust. When they are comfortable, we do the adjustment.
Dr. Barone is certified in pediatric chiropractic care. He's a member of the International Chiropractic Pediatric Association. Seeing your children thrive as a result of chiropractic care is our goal.
Read more about conditions pediatric chiropractic has had success with.
Torticollis
Plagiocephaly
Sleep Issues
Range of motion and latching problems
Unusual crawling patterns
Scoliosis/Postural Issues
Headaches and neck pain
Childhood sports/playing injuries and more…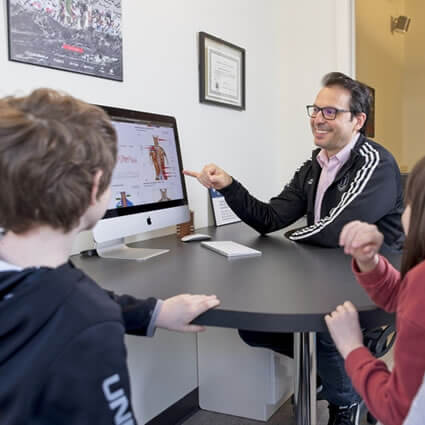 Book Your Visit Today
Start your baby on the right path with pediatric chiropractic care. Children have lasting benefits from early chiropractic care. Help your child grow, thrive, and be happy. That's what every parent wants for their children.
Contact us today and see the difference early treatment can make.
CONTACT US

Pediatric Chiropractor in Port Moody, Coquitlam BC | (604) 461-2725